Les Beatles enfin en streaming sur Spotify, Deezer, Apple Music…
#TheBeatlesStreaming
Voilà une excellente nouvelle pour tous les mélomanes adeptes de la « bonne vieille musique » d'antan qui pleuraient chaque jour un peu plus de ne pas pouvoir retrouver The Beatles sur leur plateforme de streaming. Pour Noël, Universal Music a décidé d'offrir ce cadeau à tous les utilisateurs de Spotify, Deezer, Apple Music et consort, avec la disponibilité de la discographie des Fab Four depuis aujourd'hui 24 décembre.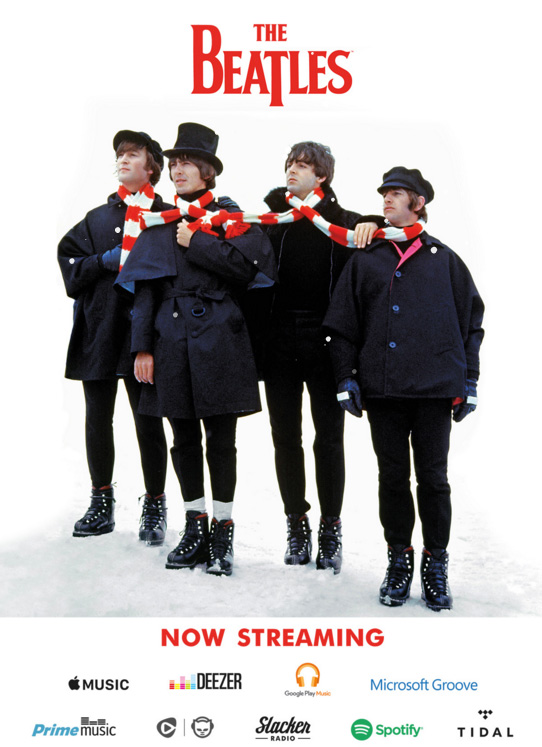 En tout, ce sont 9 plateformes de streaming qui permettent désormais d'accéder aux nombreux tubes des Beatles, avec la disponibilité de 13 albums et pas moins de 4 compilations. L'occasion de retrouver notamment Penny Lane, Help, Love me Do, Let it Be, Yesterday, Hey Jude, Yellow Submarine, Ticket to Ride, Revolution…
La discographie des Beatles (ou de The Beatles) est disponible pour tous les utilisateurs, que ces derniers soient abonnés au service Premium ou détenteurs d'un compte gratuit. Bien sûr, seuls les abonnés Premium pourront profiter d'une écoute haute qualité, et dénuée de la moindre publicité. Les Beatles sont dès à présent écoutables en streaming depuis Spotify, Apple Music, Deezer, Google Play Music, Microsoft Groove, Amazon Prime Music, Slacker, Tidal et Napster. Twist and Shout !
---